Target customers
Our main customers are the large construction contracting companies that are involved in tunnel projects as they are usually specialized in civil engineering and electro-mechanical but definitely they have a lack of knowledge in all technologies related to tunnel management and SCADA systems
OPEN MINDS CIT provides a complete engineering consulting services for the design and implementation of tunnel management system covering all light current solutions required for tunnel safety and traffic management.
ITS is a vital part of tunnel management, as it allows tunnel operators to quickly manage traffic without the risk of human errors, in many cases on the basis of automatic traffic monitoring. Important systems and tools for traffic management include traffic models that determine management strategies, systems for traffic signaling, systems for traffic notifications (VMS), and systems for emergency and incident response.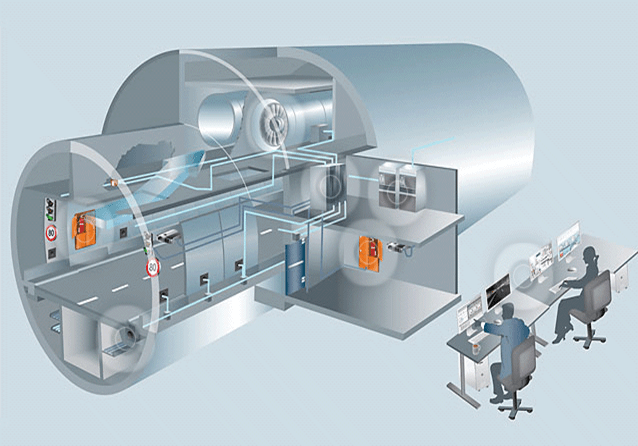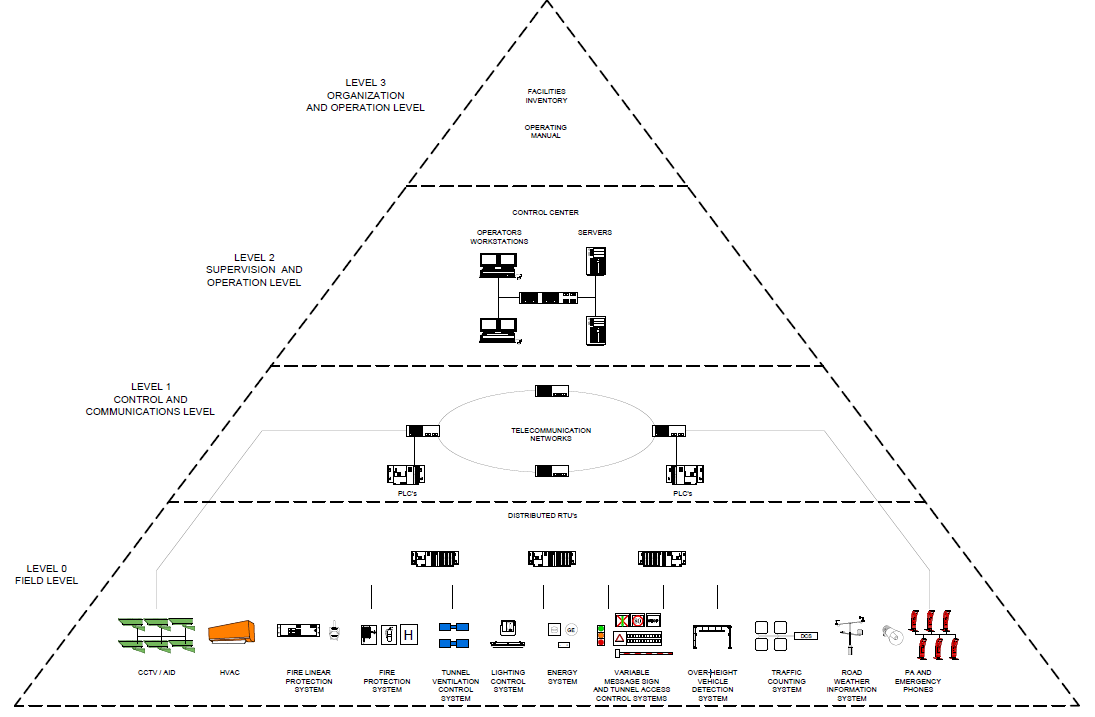 Field level equipment (Level O)
Field level equipment are either connected to analog inputs/outputs, digital Input / outputs or serial interfaces of distributed control Remote Terminal Units (RTUs) or directly connected to the IP infrastructure Industrial Switches.
Traffic Management System (TMS)
Traffic detection, counting and classification System
Variable Message Sign System (VMS)
Over-height vehicle detection System
Tunnel access control System
Public Address System
Access Control and Intrusion Detection System
Fire System
Inside technical rooms Fire Protection System
Fire Linear Fire Detection System
Closed Circuit Television system
Automatic Incident Detection System (AID)
Private Radio Communications System
Roadside Emergency Phone System
Tunnel Ventilation Control System
Lightning Control System
Emergency Signage System
Road Weather Information System
Control and Communication Systems (Level 1)
The communication and control system includes the following subsystems:
Control System
Redundant Master Programmable Logic
Controllers (PLC)
Remote Terminal Units (RTUs)
Control Cabling
Telecommunication Networks
(A) Active Components
2.1 Industrial redundant ring backbone Switches
2.2 Industrial redundant ring distribution Switches
2.3 Industrial cabinet Access Switches
(B) Cabling & Passive Components
2.4 Optical interfaces
2.5 Fiber optic-Copper converter
2.6 Single mode fiber optic cables
2.6 Fiber Distribution Frame (FDF)
2.7 Junction boxes
2.8 UTP ports patch panel
2.9 UTP Cat 6 cables
2.10 Racks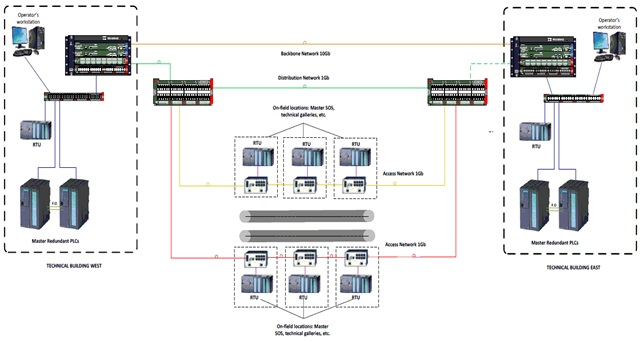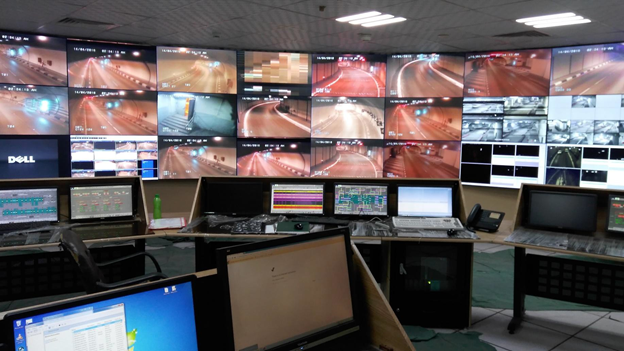 Supervision & Operation Control Room software (Level 2)
The projects scope includes the following software modules and servers to operate the 2 control rooms at both sides of the tunnel:
OS & Virtualization software
SCADA system Software based on Siemens WinCC and custom tunnel management MMI
CCTV & AID management software
Public Address System management software (server and client)
Access Control System software (server and client)
Public Address System management software (server and client)
Network Management software (server and client)
Integration Software modules and services
Supervision & Operation Control Room hardware (Level2)
The projects scope includes the implementation of 2 control rooms at both sides of the tunnel with equipment in each one capable of managing the full system in a disaster recover mode. The equipment includes the following hardware items:
Servers in each of the 2 control centers: (3 in each center, total 6 servers)
Network Video Recording Servers and Storage Disk array (90TB)
FLUX AID and Traffic data collection servers
SCADA servers in hot standby mode
Workstations equipped with triple monitor as follows (5 in each center total 10 WS)
2 x SCADA workstations (one for each tunnel) total 2 in each center
Voice workstation for telephone attendant console, Radio VBI and Public address with desk microphone and speakers.
Administrator and Engineering workstation for SCADA engine (WINCC), network management,
Administration workstation for configuration of CCTV, AID, video playback and reporting, and Access control configuration and card registration.
Telephony systm management and access control server workstation
Video wall Controller and 8xLCD panels 46" (8 panel in each center total of 16 panels)
IP PABX and IP phones for control centers, and Roadside phones)
Racks and local LAN, firewall and NTP
Console & Chairs, and site preparation
Organization & Operation Level (Level 3)
Centralized management and control scenarios through SCADA software, CCTV & AID integration, traffic management as well as and public address and Alarm Management
Operation and Control scenarios based on tunnel events management SCADA system ensures:
Improvement and control of tunnel transportation flow and capacity
Monitoring of entire tunnel traffic events and AID
Reduction in incident and emergency response times
Reliable Fire protection
Tunnel Transportation Guidance
Enhancement of tunnel traffic safety
Reduction in travel time
Decrease in congestion
Improvement of traffic mobility
Enhancement of tunnel maintenance